A 13.4-mile trail bisecting much of Harris County, the Man O' War Trail follows the path of the retired diesel train with the same name. Established by the Central of Georgia Railway in 1947, the Man O' War spanned from Columbus to Atlanta and stopped daily in Pine Mountain for over 20 years. The tracks remained in use after the Man O' War was retired, mainly for carrying freight, and were traversed frequently until being fully decommissioned in 2007.
The magnificent footprint of that railway now serves as the foundation for a seminal trail system connecting Pine Mountain and Hamilton and beyond. Over 13 miles of asphalt path greets guests and provides a safe and fun way to explore the beauty of Harris County. Cyclists, runners, dog walkers and more are all welcome to enjoy the 10-ft wide path spanning our county. While motorized vehicles are not allowed, there is ample parking for them at either end of the trail, or at a number of drop-in points along its length.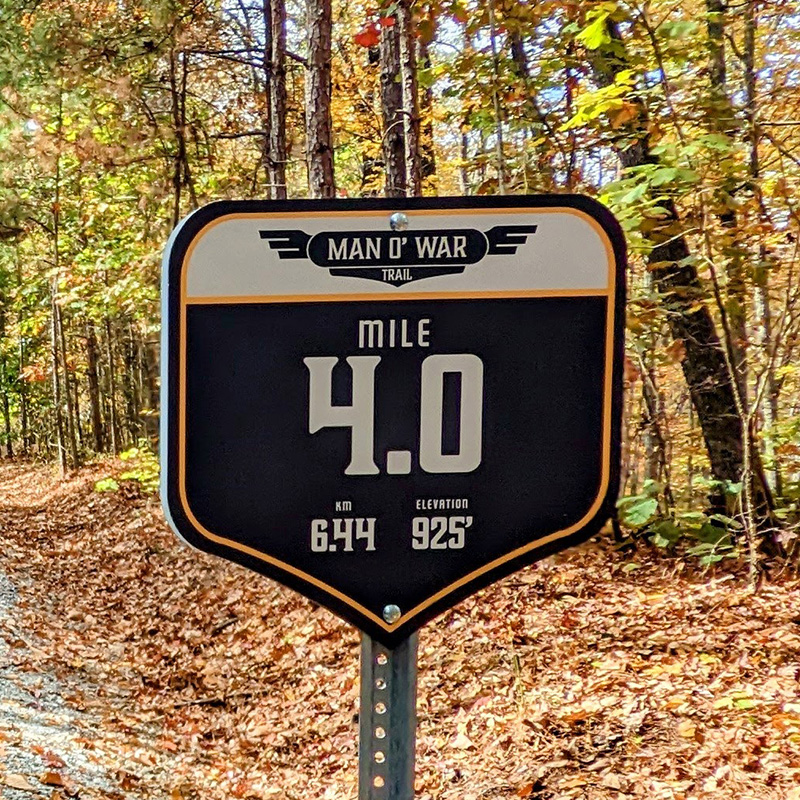 Runners and cyclists looking to explore the trail and track their times are invited to do so on the following forums. Compare yourself to the fastest to tackle the trail!
The Man O' War Trail signage draws inspiration from the original locomotive that ran along the trail. A concentrated emphasis was placed on marrying a retro-futuristic motif with a streamlined, modern flavor.
Visitors and residents alike now enjoy the 13.4 mile trail, spanning from Pine Mountain to Mulberry Creek, with plenty of sights along the way.