Nestled in Pine Mountain Georgia with a striking 9,049 acres to explore, F. D. Roosevelt State Park is the largest state park in Georgia. Inside the park, the very popular Pine Mountain Trail includes 23 miles of trail dotted with creeks, small waterfalls, camp sites, a background of mountain views, and plenty of pines outlining your trajectory. President Franklin D. Roosevelt himself enjoyed the trails, with one of his favorite spots being Dowdell's Knob.
Peaceful woods, winding streams, hidden waterfalls, scenic overlooks, and varied wildlife await your discovery. Just follow the blazes (colored rectangles painted on trees), and the mileage markers which are there to assist your navigating. Wooden location and mileage signs are waiting for you at each road crossing, trailheads and campsites. While there is truly no bad season to explore the Pine Mountain Trail, fall is a particularly striking season with the changing leaves on the hickory, oak, dogwood, and maple trees whose colors brighten up the paths.
There are plenty of camping options on the Pine Mountain Trail including the following backcountry campsites listed with their elevations, for you to plan your trip around:
Sparks Creek Campsite – 1000'
Sasafrass Hill Campsite – 1175'
Big Knot Campsite – 1000'
Grindstone Gap Campsite – 978'
Whiskey Still Campsite – 1100'
Little Bridges Campsite – 956'
Dead Pine Campsite – 899'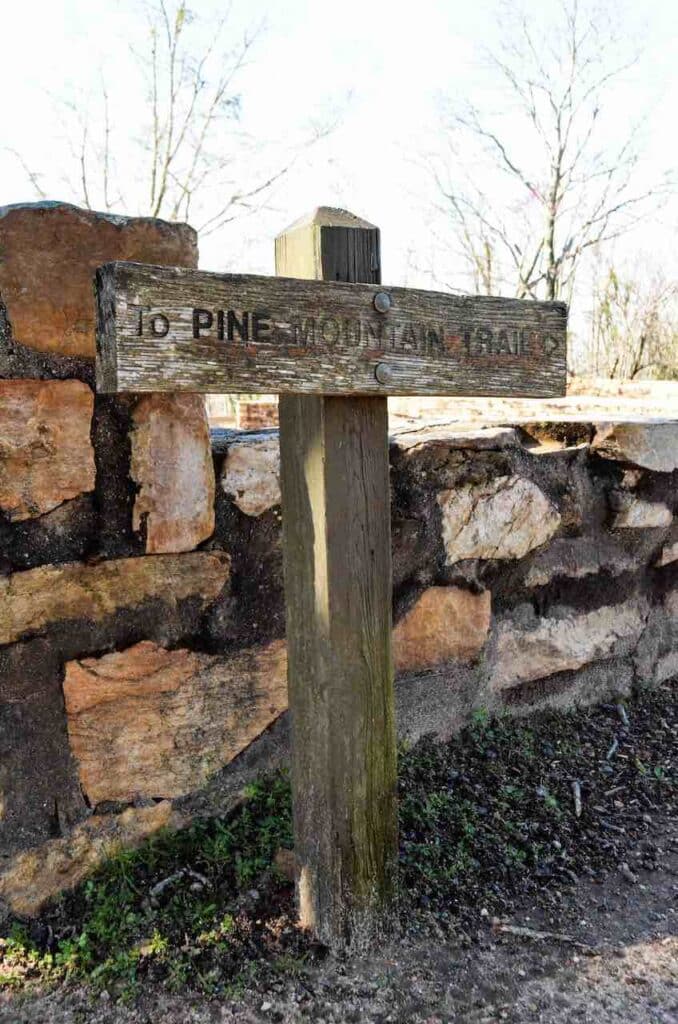 While they are primitive campsites, there are several that are easily reachable, making it the perfect first taste of camping for families new to the outdoors. Get out of the house and into the woods, pack plenty of coveted s'mores materials, and make memories you and your children won't forget!
*Important to remember: If you backcountry camp on the Pine Mountain Trail, you have to obtain a permit to camp from the F. D. Roosevelt State Park office before entering the woods (even if you have reservations). It is also required visitors have either a Georgia Park Pass or a Daily Use Fee Pass to display on the rearview mirror of each vehicle left parked overnight. There is also a charge of $10/person per campsite. Reserve your spot online ahead of time.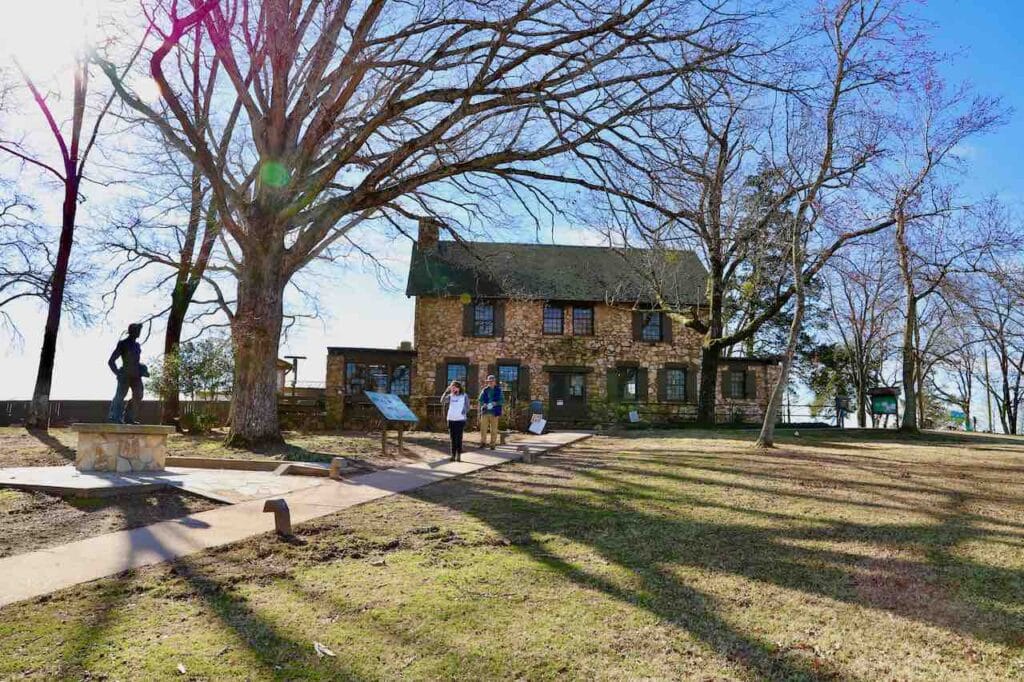 More of a glamper than a camper? There are 21 cottages located in F. D. Roosevelt State Park. Make sure to reserve yours in advance, they go quickly! While not glamorous, the cabins have screened in porches, kitchen appliances, AC/Heating, and showers. If you want to spend a night in the woods, but aren't committed to completely roughing it, this is for you! They are open all year-round, so take the time to plan ahead.
---
While it is possible to hike The Pine Mountain Trail in a day, it is perhaps best enjoyed by breaking up the hike, spending two days camping and three days hiking. Maps provided by the park make it easy to plan your route and stay on the well-marked path. There are many water sources along the way, so make sure to bring a filter to stay hydrated! Depending on the weather, the group, or the time of day, there are multiple loops and trails with varying levels of length and difficulty to choose from.
A few outlined trails that are easy to follow:
Overlook Loop (3.4 miles): Begin at the Gardens Overlook Parking Area on Highway 190 or at the area across from Callaway Country Store.
Mountain Creek Nature Trail (3.2 miles): This loop trail starts at the Trading Post in the main RV camping area near Lake Delano. One of the least strenuous, but prettiest routes.
Longleaf Loop (6.9 miles): A map is highly recommended to best follow this loop, and most hikers use the Park Office or the Fox Den Cove parking lot as their starting spot.
Big Poplar Loop (7.8 miles): This is the longest loop on the Pine Mountain trail, and is named for a large poplar tree located on the trail. It has a number of creeks to cross and has interesting rock formations. There are two entry points on Highway 190, one at the mile nine marker at the Fox Den Cove parking area and the other around mile eleven at the Mollyhugger Hill parking area.
For more information on possible trails, camp sites, and frequently asked questions, we suggest familiarizing yourself with the Pine Mountain Trail website before starting your excursion.
Also worth noting, the F. D. Roosevelt State Park office is open 8 AM – 5 PM Monday-Thursday, 8 AM – 8 PM on Friday, and 8 AM – 6 PM on Saturday and Sunday, and sells the Pine Mountain Trail maps. Happy trails!