While everyone loves a lazy Saturday, sometimes even our days off can start to feel a little too routine. If your family is looking for something new and nearby, beautiful Harris County waits just south of Atlanta with a whole host of activities and ready-made memories. Take a family road trip to idyllic West Georgia and revel in all that Harris County has to offer.
---
Wild Animal Safari
Minutes from downtown Pine Mountain, Georgia, Wild Animal Safari attracts visitors with the opportunity to get up close with breathtaking wildlife most people wouldn't otherwise see in a lifetime. Two wildlife experiences provide exciting options to see over 550 gorgeous and exotic animals: the Drive-Thru Safari and the Walkabout Adventure Zoo.
How does it work? At the main station you can purchase grass pellets for your safari. One whiff of these irresistible delicacies and suddenly the whole host of animals will want to be your best friend — literally eating out of the palm of your hand!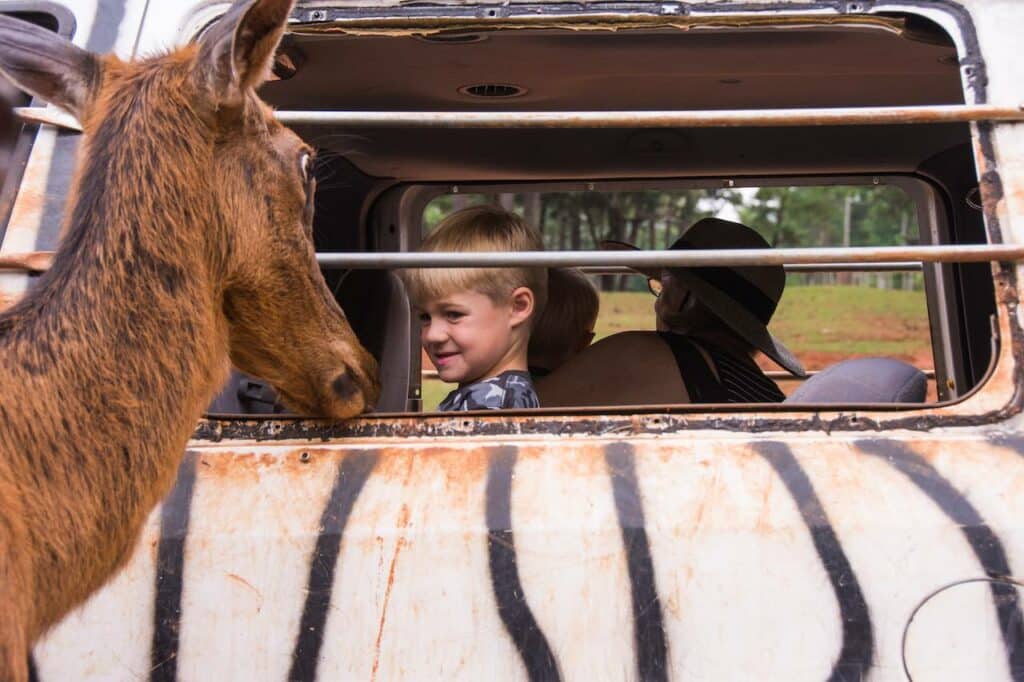 Over the course of 3.5 miles, visitors will notice a complete lack of cages, meaning each person is guaranteed face-to-face interaction with some of the animal kingdom's most majestic animals. Make sure to bring your camera to capture the magic!
Want to get even closer? Wild Animal Safari allows guests to book personal encounters with animals! Brave animal lovers can meet and feed a sloth or encounter three different reptile species. Bring a party of 4 guests or fewer and book your personal encounter 24 hours in advance to get a uniquely personal meet-and-greet!
History, Hiking and Camping at F. D. Roosevelt State Park
With over 9,000 acres of woodland to explore, F. D. Roosevelt State Park is Georgia's largest State Park, and the perfect place to experience American presidential history firsthand.
In 1924, President Roosevelt came to West Georgia to swim in the naturally occurring warm springs which provided some relief from his polio. Today, Roosevelt's Little White House State Historic Site invites visitors to see his modest home, a museum and the pools that first drew him here. Dowdell's Knob above King's Gap is where President Franklin D. Roosevelt often picnicked and pondered world affairs, and a life-size sculpture of the president now welcomes visitors to the overlook.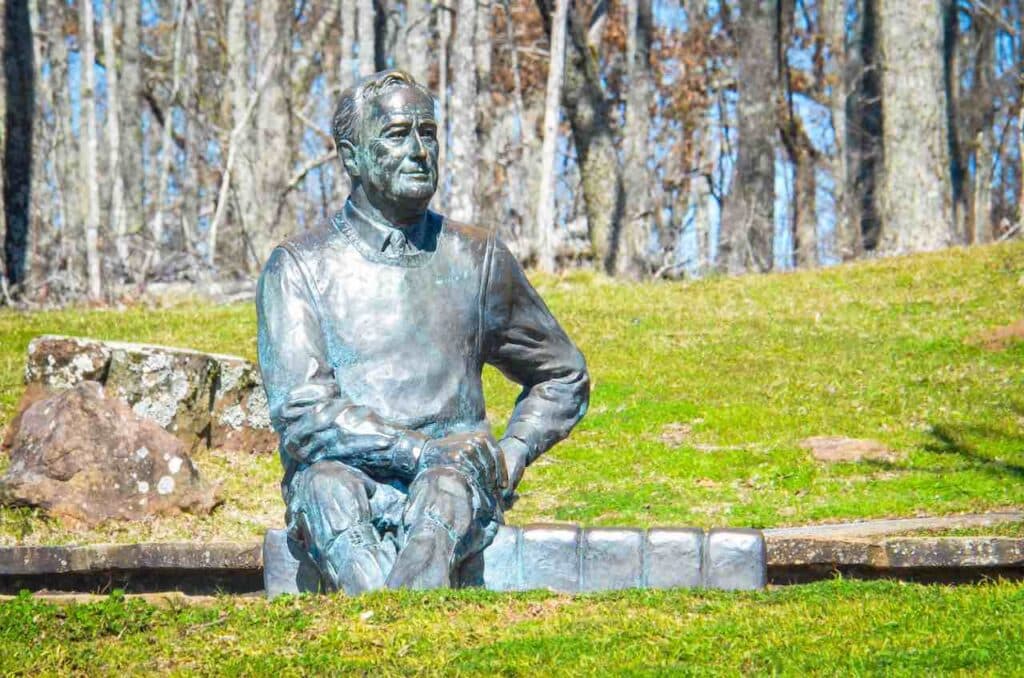 F. D. Roosevelt State Park also draws visitors worldwide with its paradise of hiking & backpacking trails. More than 40 miles of trails – including the popular 23 mile Pine Mountain Trail – wind through hardwood and pines, over creeks and past small waterfalls. Many visitors are surprised to find rolling mountains 80 miles southwest of Atlanta. Campers and day trippers alike find serenity in F. D. Roosevelt by fishing off docks, bird watching, and gathering in its many parks, pavilions and lake-side campgrounds.
For avid campers, multiple cabins and cottages, RV and tent sites are available for reservations. Want to explore the lakes? The Park Office at F. D. Roosevelt supplies every kind of rental you need to get out on the water, including Jon boats, kayaks, aqua cycles, and canoes.
Horseback Riding at Roosevelt Stables
Looking for a more unique way to experience F. D. Roosevelt State Park? Saddle up for a horseback riding adventure up the mountains and through the valleys at Roosevelt Stables. Ride to the top of the mountain as you explore the beautiful park.
28 miles of horse trails wind through the park – suited to various lengths and skill levels – and the stables even offer rides coupled with lunch – or an overnight trip under the stars. The stables welcome riders for all types of celebration, including birthday parties, corporate parties and scout groups.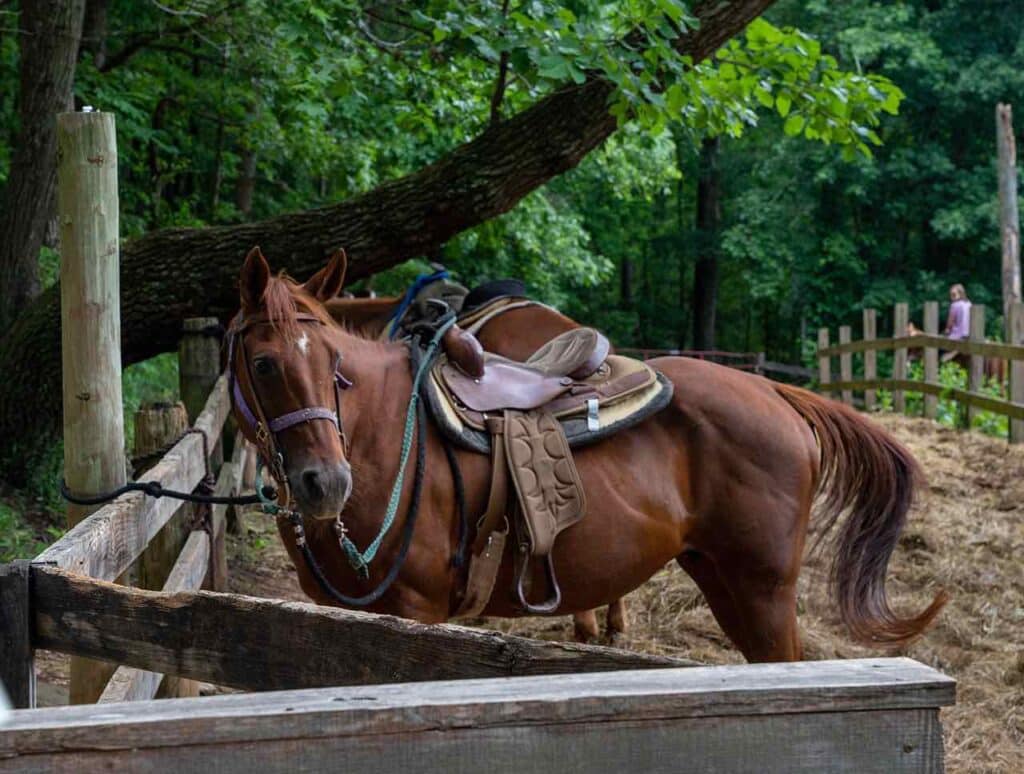 Explore Pine Mountain on Bike or Foot
Looking for a scenic escape from the big city? Head to downtown Pine Mountain to enjoy the many boutiques, vintage and thrift shops, eateries, art galleries, historical streets, and more. Be sure to stop by Chipley Cycle for a chance to see the city and surrounding trails on bike.
Downtown Pine Mountain also provides easy access to the popular Man O' War Trail. Once the route for a historic passenger train, the Man O' War Trail now serves as a paved multi-purpose path. Hop on at various points to enjoy scenes from downtown Pine Mountain or find shade under a canopy of tall pines!
Soak up the Sun on Lake Harding
Lake Harding, also known as Bartlett's Ferry Lake, is a 5,850-acre reservoir on the Chattahoochee River. Formed by Bartlett's Ferry Dam and traversing the border between Harris County and Alabama, Lake Harding is a favorite local spot for fishing, swimming, and picnicking.
Want to reserve your lakeside spot? Blanton Creek Campground offers campgrounds and primitive campsites, perfect for get-togethers and getaways alike. The marina, playground, boat ramps, and many camping amenities promise comfort and entertainment for the whole family.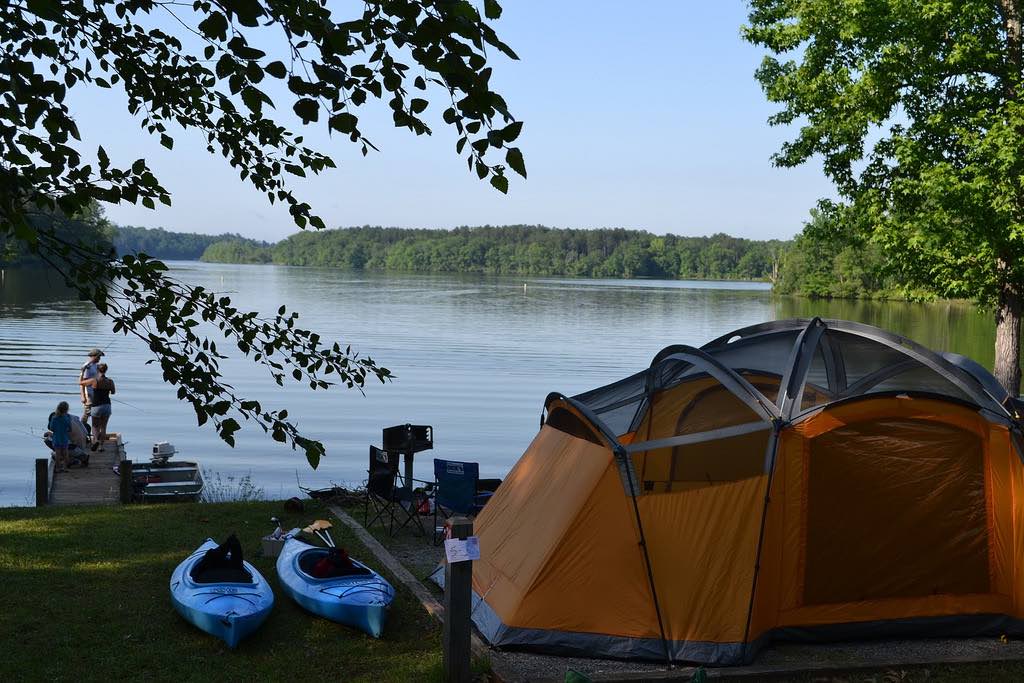 ---
Great Places to Stay
For a comfortable and affordable stay outside of Columbus and Callaway Gardens, reserve a spot at Pine Mountain RV Resort. Amenities include a fitness room, pool, hot tub, steam showers, lounge and more. Pull up in your RV or rent a yurt for glamping!
Chipley Murrah Bed and Breakfast
Nestled in the heart of beautiful Pine Mountain, Georgia, this Victorian home built in 1895 brings you back to the early 1900's. Rooms and cottages are available to rent, all of which are fully furnished with period-appropriate decor creating a sense of historic homey-ness.
F. D. Roosevelt State Park Campgrounds
Find your home away from home either lakeside or deep in the forest at F.D. Roosevelt Park. The campgrounds offer both primitive sites and sites with electric hookups, as well as cabins and more. Immerse yourself completely in one of Georgia's greatest parks.
With so many family-friendly activities and places to dive into local and natural history, anyone who makes the short trip from Atlanta would agree Harris County, Georgia is an undeniable hidden gem.