Georgia's landscape is a dreamy backdrop of rolling hills, lush greenery and scenic spots for every type of traveler, and Harris County is certainly no exception. Spanning over 9,000 acres with hiking trails, cabins, campgrounds and a lake, F. D. Roosevelt State Park is the perfect place for your family to enjoy the great outdoors, learn some fun history, and experience all of nature's beauty. Here's a killer itinerary to consider when planning your next budget-friendly family road trip to the Peach State.
Hiking: Pine Mountain Trail and Dowdell's Knob
The Pine Mountain Trail, one of Georgia's longest and most scenic hiking trails, can be found at F. D. Roosevelt State Park. Here you can experience the beauty of Pine Mountain firsthand, including unusual rock outcroppings and stands of hardwoods and longleaf pine. To help guide the way, the 23 miles of trails are well marked, but be sure to pick up a map from the park office before setting off on your journey.
Another popular choice is the 4.3-mile Dowdell's Knob Loop, which features sweeping views of the valley below. Here, President Roosevelt found solace from the pressures of the Great Depression and World War II. A life-size bronze sculpture of the beloved president can be found at Dowdell's Knob picnic area.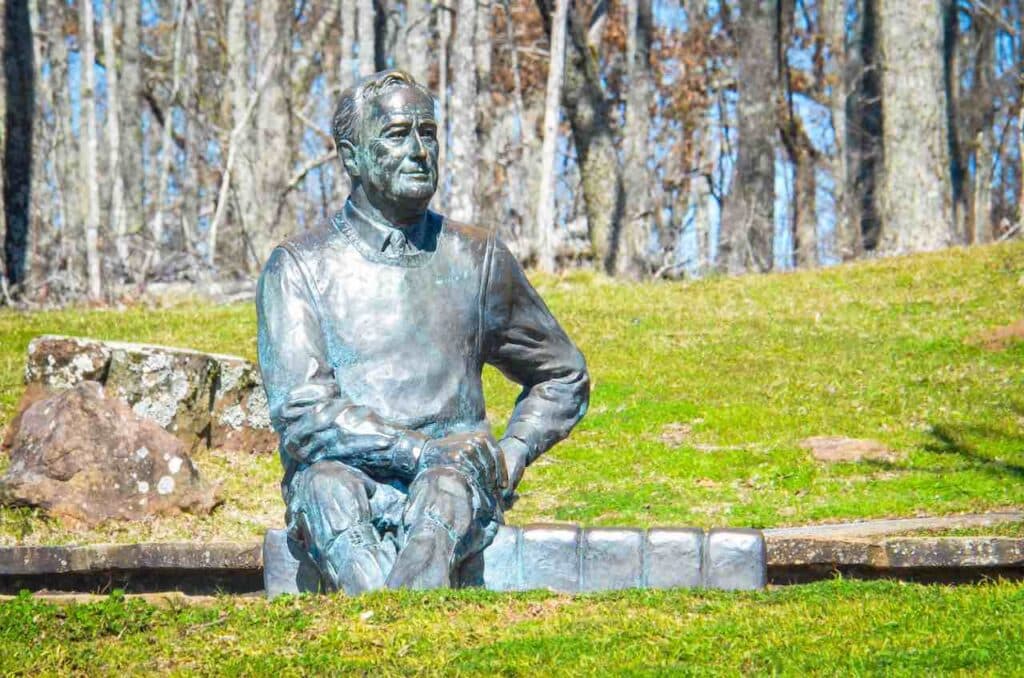 Camping: S'mores Amor
To fully enjoy all the park has to offer, visitors can spend the night in cabins or the campground. Some of the cabins sit on the mountain top and some are located near the lake shore. All are equipped with linens, kitchen utensils, fireplaces and grills. The campground offers 140 campsites and a bathhouse with hot showers. Some sites overlook the lake and others are nestled among pines and hardwoods. F. D. Roosevelt State Park was also recently lauded as a Top 10 Georgia State Park for Fall foliage. Visitors are encouraged to stop by the park office for maps. RV sites are available as well for families who like to truly experience the open road.
Liberty Bell Pool
For those hot summer months, aquatic relief can sometimes be the best option, especially for families.
F. D. Roosevelt has plenty of options for fun, but the most popular among them in the dog days of summer is the Liberty Bell Pool. This fantastic and historic pool has been welcoming swimmers since 1941. Fun seasonal events, including a dogs-only swim day, add to the attractiveness of this destination.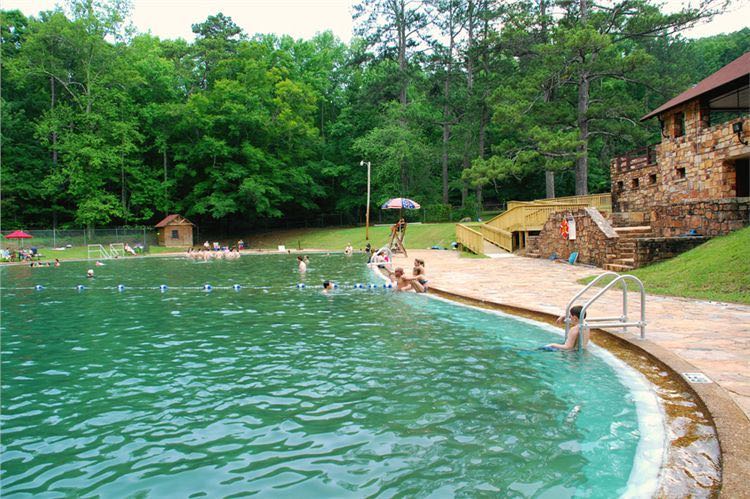 Horseback Riding: Roosevelt Stables
One outstanding way for families, as well as all visitors, to explore F. D. Roosevelt State Park is on horseback! The park is home to a fabulous stable of trail riding horses, who know the park like the back of their hooves. The staff at Roosevelt Stables do a fantastic job of detailing the significance of the 28 miles of trails during your ride, and the horses are all beautiful and well-natured animals. Trail rides of various lengths are available, including some overnight excursions with riders camping under the stars. Roosevelt Stables welcomes riders of all experience levels starting as young as 6.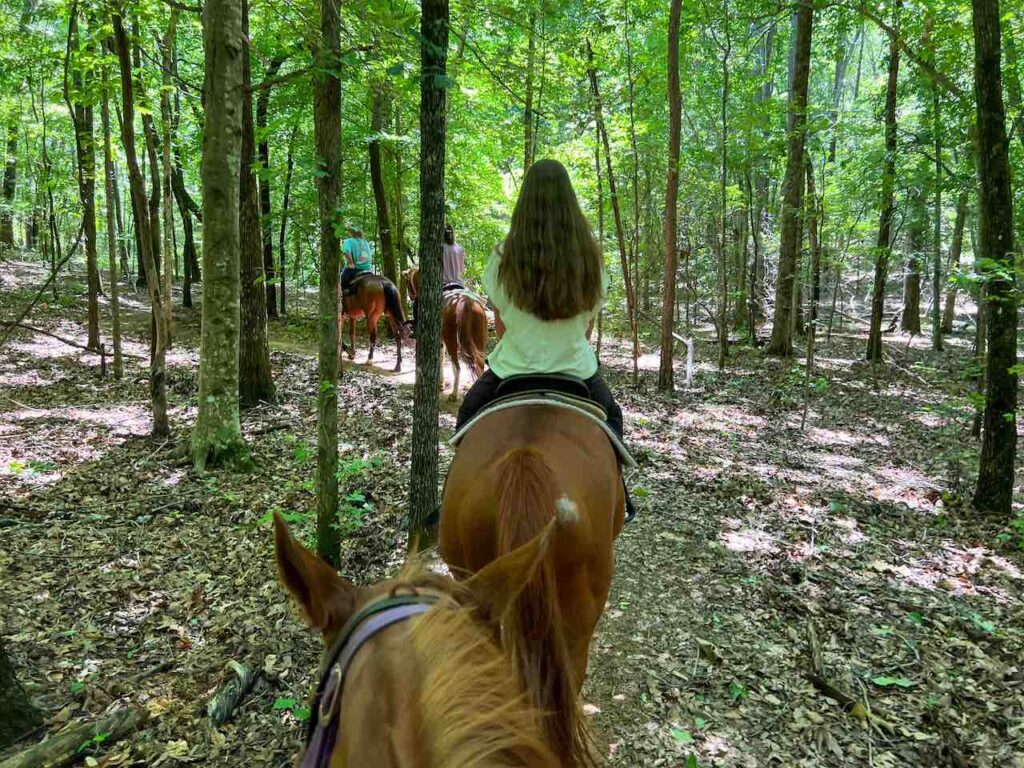 Warm Springs: Roosevelt's Little White House
Roosevelt's Little White House, the Southern home of President Roosevelt, is one of Georgia's most popular historic sites. Guests can tour the main home, guest house and servants' quarters, and see his 1940 Willy's Roadster and the Secret Service sentry posts. Nearby are the pools that first drew President Roosevelt to the area while searching for relief from polio. Enchanted with the area, he built a simple vacation cottage on the side of Pine Mountain while running for president in 1932. He spent many hours visiting neighbors and learning their difficulties, which provided him with inspiration for the New Deal.
Go Wild on Safari
Just north of F. D. Roosevelt State Park, along Hwy 27 you will encounter one of the most unique experiences of your life. Exotic animals! LOTS of exotic animals!
Wild Animal Safari features two different ways of seeing these exotic animals. The Serengeti Adventure is a 3-mile drive through section where you will have a chance not only to see, but also to feed and touch animals from around the world. Designed to embrace a natural open setting, the drive will bring you face to face with animals such as giraffes, zebras, buffalo, camels, a rhino and many more. You have the choice of touring through in your own vehicle, a rental van, or the seasonally available guided tour bus.