Enjoy respite and adventure in Harris County. Just an hour south of Atlanta, the county encompasses multiple small towns that offer travelers a charming experience with a picturesque backdrop—minus all the hustle and bustle of Atlanta and North Georgia crowds. Relish in mountain hikes, horseback escapades and boutique shopping – Harris County has a list of adventures and activities that stack a mile high.
Hike to the Heavens
FDR State Park
History meets hiking – that's what you can expect at F. D. Roosevelt State Park (Georgia's largest state park!). Travelers from across the country visit F. D. Roosevelt State Park to explore its 9,000+ acres of forestry and history. Most visitors are surprised to find mountains 80 miles southwest of Atlanta, but this hidden gem holds a charm fit for former president Franklin D. Roosevelt. Originally unincorporated territory, Harris County's lush countryside soon became known as the President's treasured outdoor oasis. In Harris County, President Roosevelt first sought treatment for his polio in the warm springs of Pine Mountain. Through this, President Roosevelt found hope, as well as peace and solitude in the valleys and mountaintops.
Dowdell's Knob, the highest point in Harris County, quickly became his famous "thinking spot" at 1,395 feet above sea level overlooking a spectacular spread of the valley floor.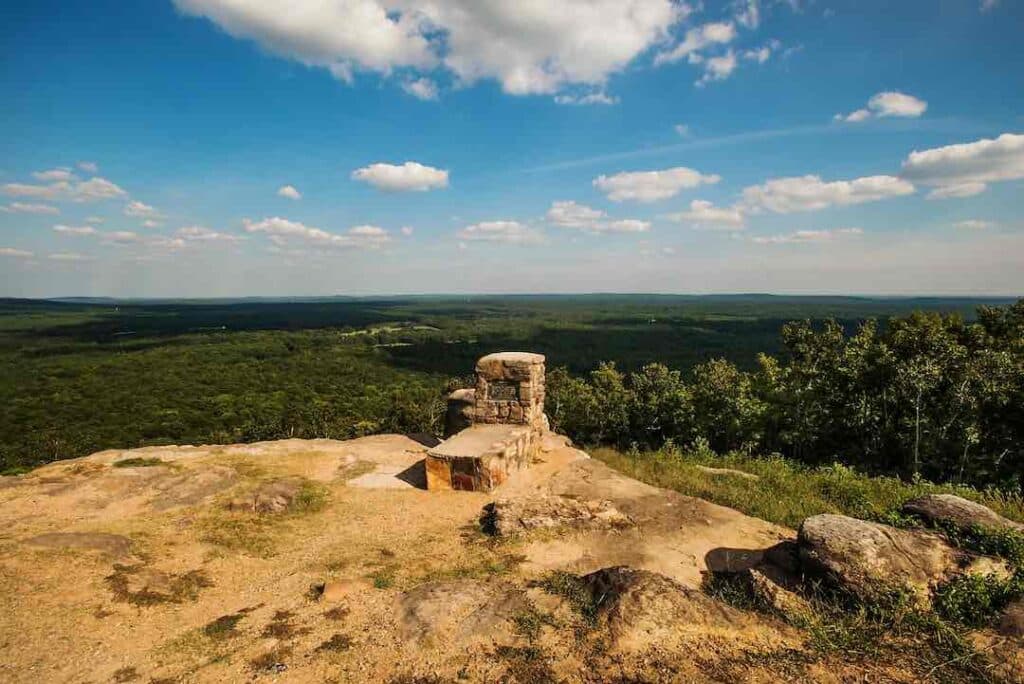 Pine Mountain Trail
The Pine Mountain Trail is a hiking trail that winds through the areas of Pine Mountain and F. D. Roosevelt State Park. Hikers will enjoy this scenic trail where they can explore the many different routes the PMT has to offer. The trail stretches 23 miles, but offers shorter down and backs and loops for less strenuous hikes. The Pine Mountain Trail is perfect for a day trip, or if you are looking for a challenge, backpacking and camping is a great way to see more of the trail.
Man O' War Trail
Experience downtown Pine Mountain's antique shops, mountain backdrops, murals and coffee shops with a ride, walk or jog along the Man O' War Trail.
In its former life the Man O' War Trail served as a passenger railroad route and today serves as a multi-purpose paved trail! Currently 10 miles long, this trail system connects Pine Mountain and Hamilton. To experience the whole trail, start out by renting a bike from Chipley Cycle in Pine Mountain and riding all the way to Hamilton!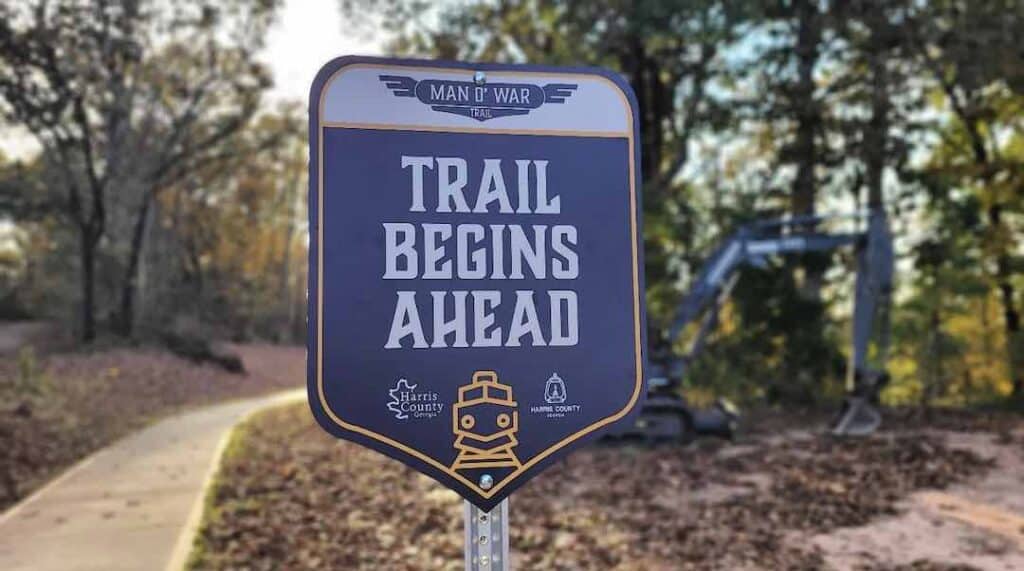 Experience the Mountains on Horseback
Clickity clack on horseback along Georgia's longest-stretching mountain range at Roosevelt Stables in Pine Mountain, Georgia. Located inside F. D. Roosevelt State Park, the stables offer trail rides and experiences for any level of rider. The overlook trail ride offers the best views of the park, or if you are feeling adventurous, you can even experience a primitive cowboy camping adventure, complete with dinner and breakfast cooked over a fire.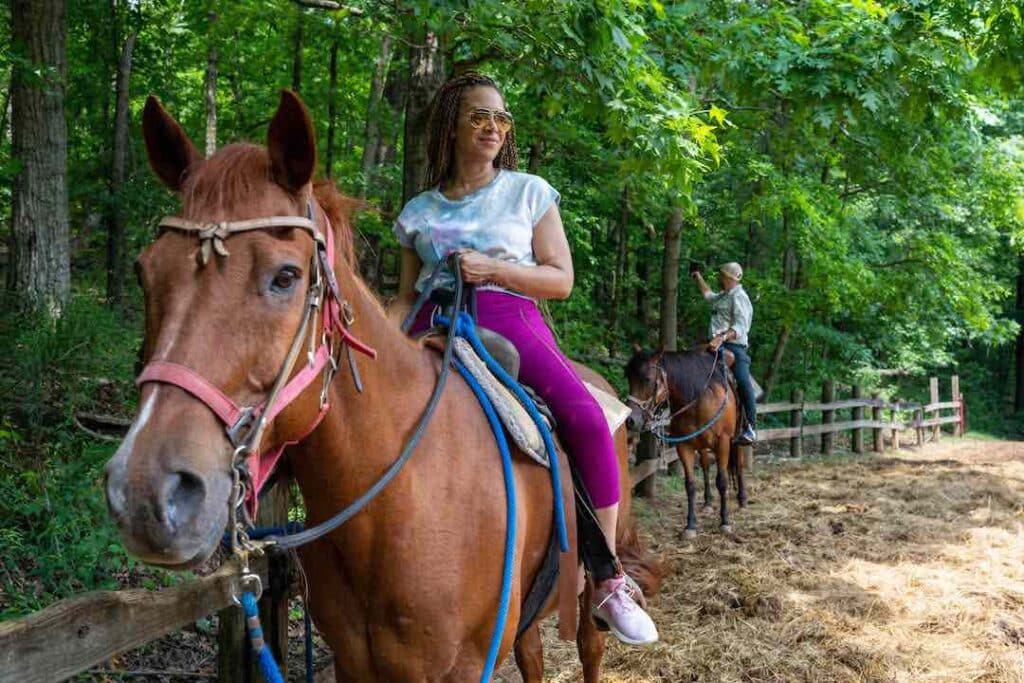 Sceneries and Adventures at Lake Harding
Lake Harding, also known as Bartletts Ferry Lake, is a nearly 6,000-acre reservoir on the Chattahoochee River. Formed by Bartletts Ferry Dam and traversing the border between Harris County and Alabama, Lake Harding offers fishing and picnicking, plus swimming in the warmer months! For the best sunsets on the lake, Blanton Creek Campground offers camping amenities for the whole family.
Shoot or Hunt!—Your Choice
Wildwood Hunting Preserve
Originally owned and managed by Callaway Gardens, Wildwood Hunting Preserve has a long history of over 60 years in Harris County. The preserve was originally dedicated to quail hunting, but has expanded to other uses since then. Wildwood has been featured in magazines such as Southern Living, Sporting Classics and Progressive Farmer and was also voted one of the nation's Top Ten Upland Hunting Destinations by Orvis.
Strongpoint Gun Range
Located in Waverly Hall, just right outside of Columbus, Strongpoint Shooting Complex is the only outdoor shooting range in this area. The range has been open since 2015 and sits on 50 acres consisting of a 400-yd rifle range and 50-yd pistol bays. Strongpoint also offers discounts for members of the military and first responders!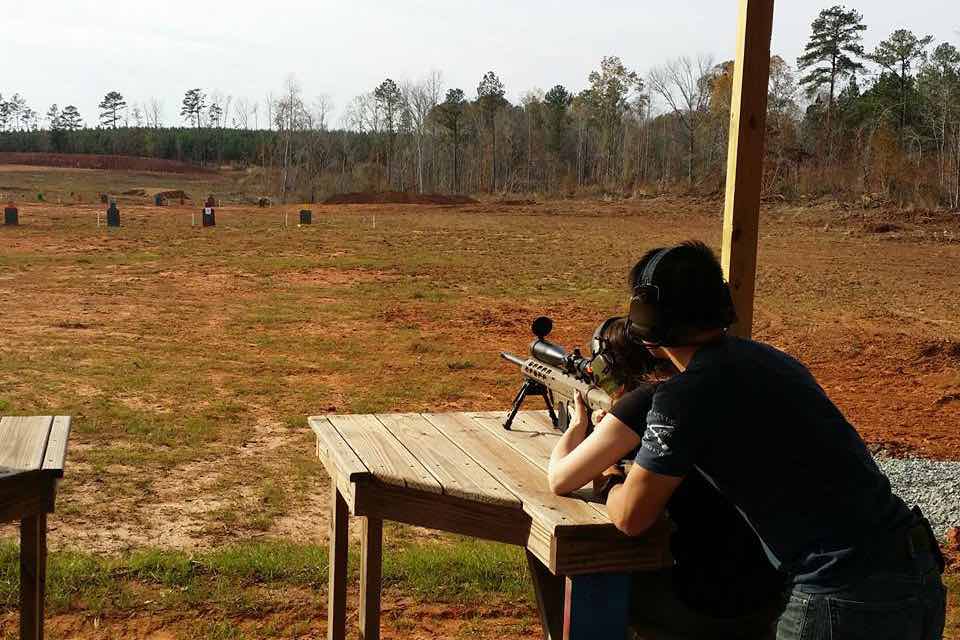 Dinner Options
Hikers work up an appetite, and Harris County has every palate covered. From soul food to seafood, you'll find a great meal from every corner. Iron Horse Grill in Pine Mountain offers a full bar and specialty burgers. A buffet of southern comfort food awaits at Eddie Mae's Kountry Kitchen. You'll always find a crowd outside Hunter's Pub and Steakhouse, but any local will tell you it's worth the wait!
---
Favorite Places to Stay
Harris County, Georgia, is an undeniable hidden gem for anyone who makes the short trip from Atlanta or the panhandle. There are plenty of family-friendly activities and places to explore local and natural history. With boutique shopping, coffee shops, antique stores, art galleries, murals and more, your mountain adventure awaits.